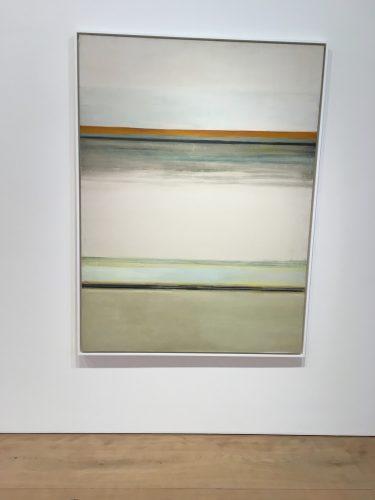 Surface work in Victoria Miro 's Mayfair gallery  "reflects the ways in which women have been at the heart of abstract art's development over the past century, from those who propelled the language of abstraction forward, often with little recognition, to those who have built upon the legacy of earlier generations … to open new paths of optical, emotional and even political expression".
So I  was excited by the idea of seeing this exhibition. Sadly, though, I was less excited by much of what I saw. Maybe it's the spread over time of the pieces?
But here are few of the pieces that did catch my eye. As they say, these are in no particular order:
I loved the subtle colours on Hedda Sterne's 1963 Vertical Horizontal # 7 (up to the left).
And probably (probably!) because of the trompe in RIBA's Perspective exhibition, I had a good look at the trompe in Svenja Deininger's 2018 Untitled. When you get closer it's even more entrancing:


The show-stopper, though, was Adriana/ Verejao's 2018 Azulejao (Moon) (at the top of this post). It was the stand-out in the display and got the biggest image on the gallery paperwork:
"A new cracked tile work by Brazilian artist Verejao evokes the traditions of Minimalism and monochrome painting while its ruptured surface speaks of a disquieting colonial legacy." 
I couldn't help but think of the faux-Chinese ceramics I'm familiar with from Persia – with their scallop-pattern edges.
But I do wish I'd felt more excited overall. Is Surface Work really the best abstract women can do? Surely not!