Irreplaceable World was looking for work exploring the notion of the irreplaceable in the natural world – with specific reference to HS2. And my photo/digital drawing was the first image in the exhibition!
One hundred and eight woodland sites are predicted to be affected by HS2.
It's the biggest deforestation programme in the UK since the First World War.
The "poster boy" for this vast act of ecological vandalism was the 250 year old Cubbington Pear. Probably the oldest wild pear tree in the country, this was still blossoming and bearing fruit until it was murdered on 20th October 2020.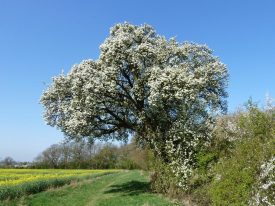 HS2 have promised to plant seven million new saplings and shrubs. But the murdered trees only represent the tip of what is lost when ancient woodland is destroyed: "Vast interconnected ecosystems, embodied with underworld networks of signalling, work socially to maintain and restore health, beauty and balance in the wider natural world".
As well as the trees and woodlands, HS2 are destroying lots of other precious habitats and their inhabitants: wetlands, waterways and meadows, scrubland, peat bogs and hedgerows.
I live near Euston, and witnessed the struggle to save the 100-year old plane-trees in Euston Square.
Eventually, though, the trees were murdered – for a temporary HS2 taxi-rank.
Yes, you read that right: 100 year old trees were executed for a TEMPORARY taxi-rank.
Its not the end of the story, though.
Some smaller trees were left behind. Previously, they would y have been supported by their elders – pillars of the local tree community – in the complex collaborative underground network called the Wood Wide Web.
Now, the smaller trees are effectively orphans, left mourning their huge ghostly neighbours.
Of course, those ghost trees haven't lost all of their power.
You can see how they have ghosted the traffic flowing in front of Euston Station – somehow splitting many of the vehicles into impossible sections.
What, I wonder, will they do next?