This is a very brief summary of my Praxis Forum submission.
Praxis Forum put out an open call for visual artists who are interested in collaboration and in pushing the boundaries of their artistic practice. Applications from disabled artists were especially welcome. There is to be a year-long programme of monthly peer mentoring forums, including peer crits, discussions, workshops, and talks by art specialists.
I submitted three digital collages to the Praxis Forum, building on the multimedia performances I was involved in at the Showroom. Plus a short description of my current practice. 
1. Deathbed skiing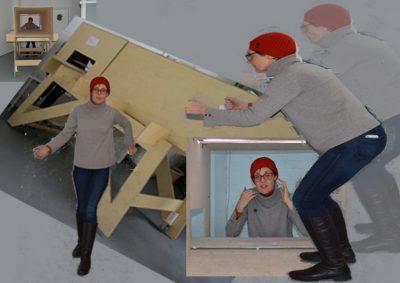 This first digital collage draws on traditional Islamic 'perspective'. This is different from  single-point perspective, even though it was Islamic texts that spurred Europeans in this direction. It shows one of the the Korean 'machines' (the 'story bus') that underpinned 'Dawn Breaks'.
When I was thinking how to make my dad's dying as fun as his living, I asked him to tell me about his last skiing Black Run. We agreed this was a great analogy for his dying. Later, when he was so near death that he'd stopped talking, he got out of his bed to stand as though he was skiing.
There's an idea of people dying in someone else's arms, but my dad skied in my arms.
2. Ultimate Living: Heartbeat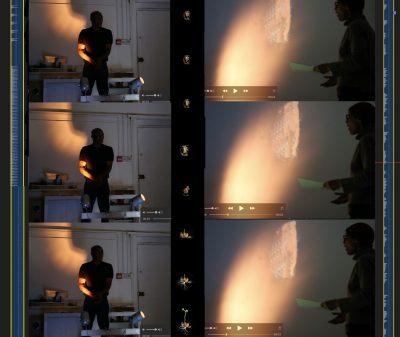 I wanted to demonstrate my use of sound as well as visual images here.
A projected acorn-heart (in the centre) splits open as my dad's breathing, and then heart, stops. I'm on the right, with the sound of my words on the far right.One of my colleagues is on the left, clapping out my dad's heartbeat  on the far left. 
My dad's death is the biggest thing in my life I can't tell him about. 
3. Ultimate Living: The Cycle of Life
I showed a much smaller version of the image below at the Showroom. But I didn't have time to make it bigger then, and we anyway only had one spare projector. So I've made a much larger version now. It'd be 2 metres long if you print it out.
I want to fill the room with forest, with me standing in the middle speaking and miming washing my dad's dead body. I kept on freshening my dad up through his days in the hospice. When he died, I wasn't going to stop!
My forest was made using tree-images from the mosaics in the Great mosque at Damascus. The fruit is Persian. So I automatically constructed it from right to right, which is how you 'read' many Persian paintings (text is read that way). But it's intended to be seen a continuous cycle, projected right around the room