I was in Bermondsey and so grabbed the chance to have a look at the Memory Palace in the White Cube.
The accompanying booklet tells me that "memory defines us". And that art is "a powerful medium for stories missing from history's official record".
Three of the items felt especially relevant to my current work on eyes and seeing and visual / colour theory so those are what I'm going to discuss here.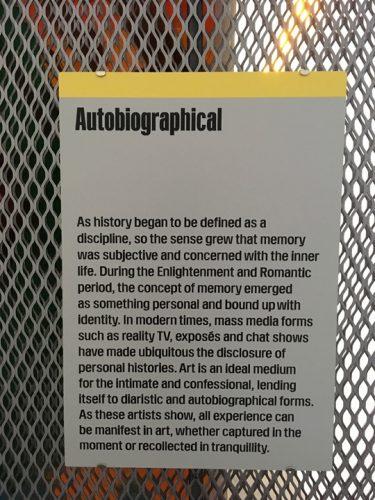 In the Autobiographical section, I saw In the Mind of the Beholder (above) by Gilbert and George.
The eyes stand out – that's what I was drawn to –  and there's some foreheads and hairlines. But when I looked again, I could see much more about bottoms here – with fingers round the perineums, and wrists as legs. When I'd thought of that, I started to wonder if the tangled forest around the flesh is pubic hair? Have I just got a dirty mind? It is indeed In the Mind of the Beholder!
The booklet tells me that the concept of memory emerged in the Enlightenment and Romantic period "as something personal and bound up with identity".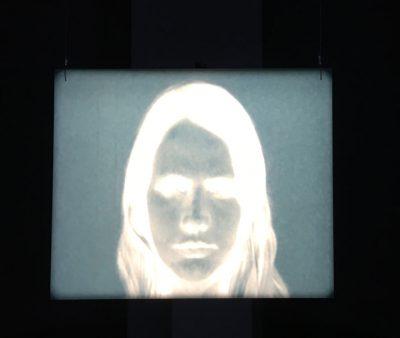 The Traces section includes Runa Islam's Stare Out (Blink). This was originally a film as below – she is "deeply immersed" in the medium of film: as described in the first section of this film about her Turner nomination.
The Memory Palace version has a female face in photonegative. Intermittently, a bright flash interrupts "impressing  a lingering positive after-image on the viewers retina". I didn't see this? Maybe its because of my optic atrophy?
The film version is titled: In Gaze of Orpheus (1998). Runa Islam here "separates the cold engagement of the act of 'looking' from fashion and advertising and returns to the mythic origin alluding to the erotic gaze of death. The commercialised image is stripped off, begging the question' who is looking at whom?' Installed in a public space and projected in an enlarged size, the work is positioned like an advert compelling the audience to gaze at the back of a blond haired girl, turning around slowly. She returns the gaze only long enough to strike, and then she disappears." I haven't thought about the 'erotic gaze of death'. Maybe I should?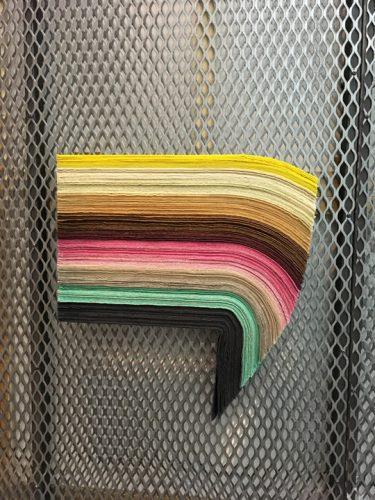 Islam also has more pieces in the Bermondsey Memory Place "recouping silver in tiny quantities from the film developing process, here laid down in a thin layer – a silver screen – on gesso panels".
Lastly, from the Sensory section, I immediately noticed Liza Lou's Sunrise at the End of the World.
I'm looking at it as a mutant rainbow.
When perhaps I'm supposed to notice the tiny glass beads?!
Or think more philosophically: "Aristotle noted the physical basis of memory, overlooked by Plato in his emphasis on the visual … For Proust, the sensory basis of memory resided in all the senses but sight: hearing, smell, taste, touch".