Shape Open 2023 has the theme Open All Hours and this above is my submission.
For several decades I've been Open All Hours to a torrent of diagnoses and disabilities.
Even with the Social Model, each new diagnosis needs time, both practically and emotionally.
Time for the worry that inevitably comes alongside an uncertain future with degenerative diseases.
Time every day for those activities of daily not-quite-living that so many others never have to think about.
Plus time for living with limited understanding and respect.
NHS staff, for example, still think it's appropriate to provide those backless hospital 'gowns' which force us to show our bottoms.
People who 'mean well' but know Nothing often feel entitled to 'advise' or 'instruct' me.
Which is … appalling.
So I dont tell my stories.
Even to myself.
Instead, every day for many years I've just moved on.
I wake, try to wash and keep on trying even harder to work.
I tell myself I love working. Love creating.
Its true!
And surely, more is better?
But the Shape call has pushed me to move on towards being Open At Least Some Hours to myself.
Wondering if maybe I'm actually Open all Hours to internalised ableism – ignoring my personal limits, behind a screen of 'valuable' productivity?
There are eight sections in my submission. Which misses out my Tuberculosis, some significant head injuries and much more.
But here are more details of the eight sections i did include: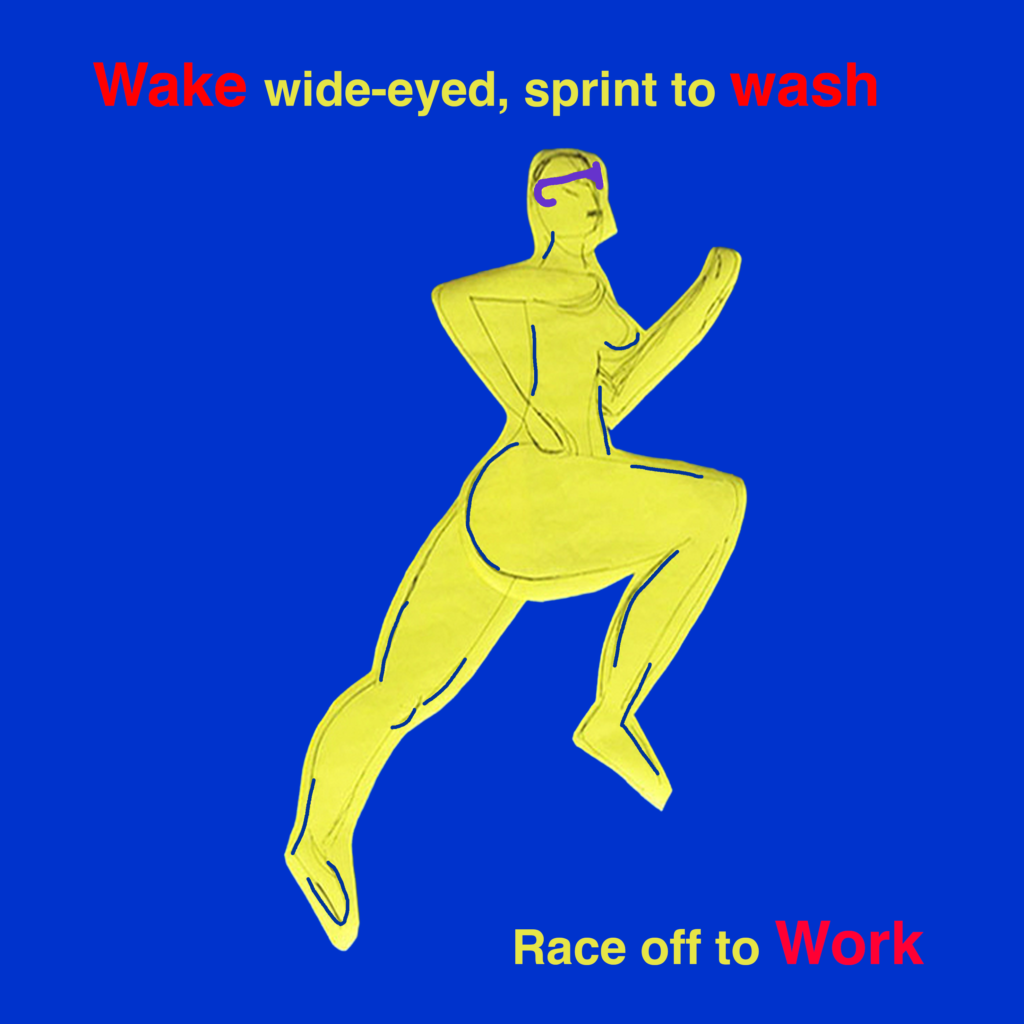 Vibrant cobalt blue background with curvaceous running woman with purple glasses (its me) in yellow
Text in yellow reads:
Wake wide-eyed, sprint to wash.
Race off to work.
For each section, the words Wake Wash and Work are in contrasting colours – here in Red.
Im sharing here how i used to run hill marathons. My home marathon was Beachy Head / Seven Sisters. But i've run marathons in London, Venice, LA, Tromso, Neolithic/Stonehenge and more – plus the gorgeous and fun Two Oceans ultra around Capetown.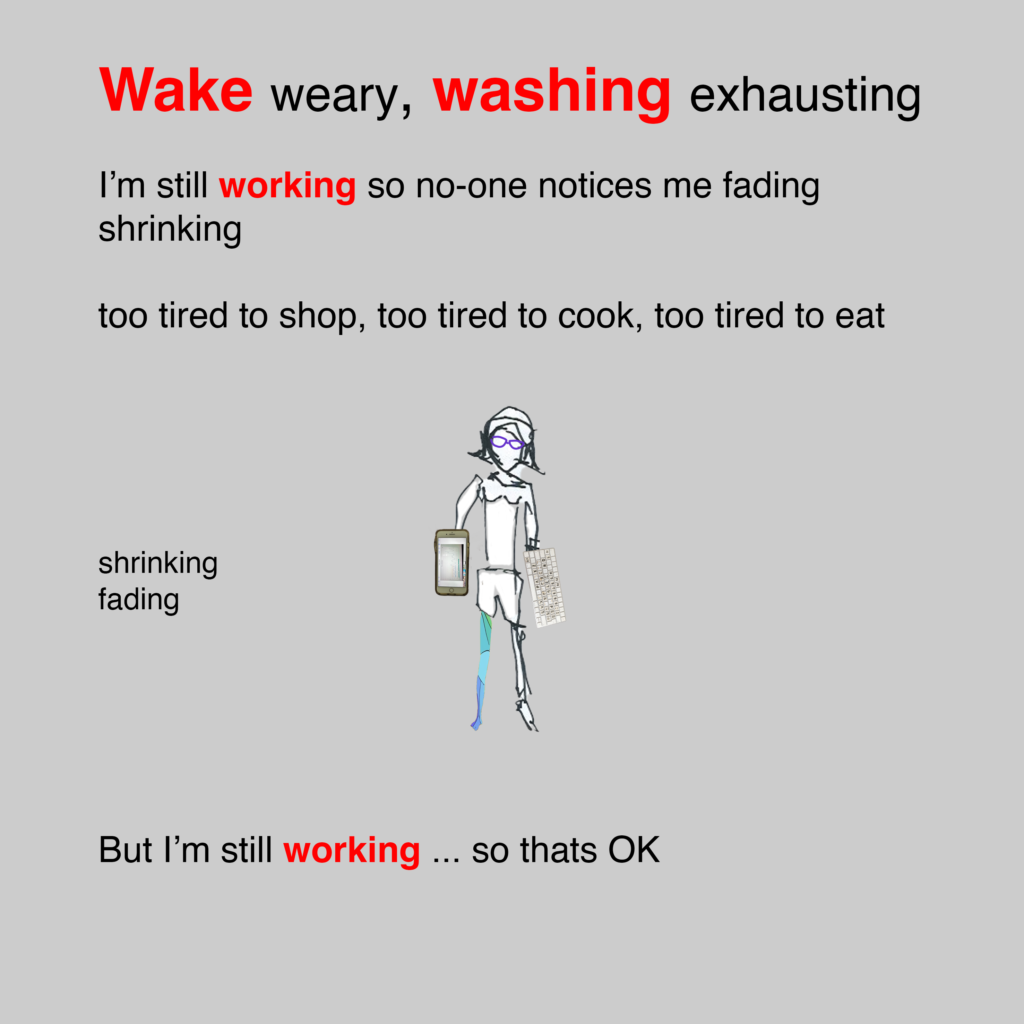 Grey background with tiny scrawny woman with purple glasses (its me) holding an iPhone and a keyboard. Her skinny right leg shows Neurological 'wiring' in blue green purple
Text in darker grey reads:
Wake weary, washing exhausting.
Smaller text reads:
I'm still working, so no one notices me fading shrinking.
Too tired to shop, too tired to cook, too tired to eat.
Shrinking Fading
But I'm still working … so that's OK
The words Wake Wash and Working are in Red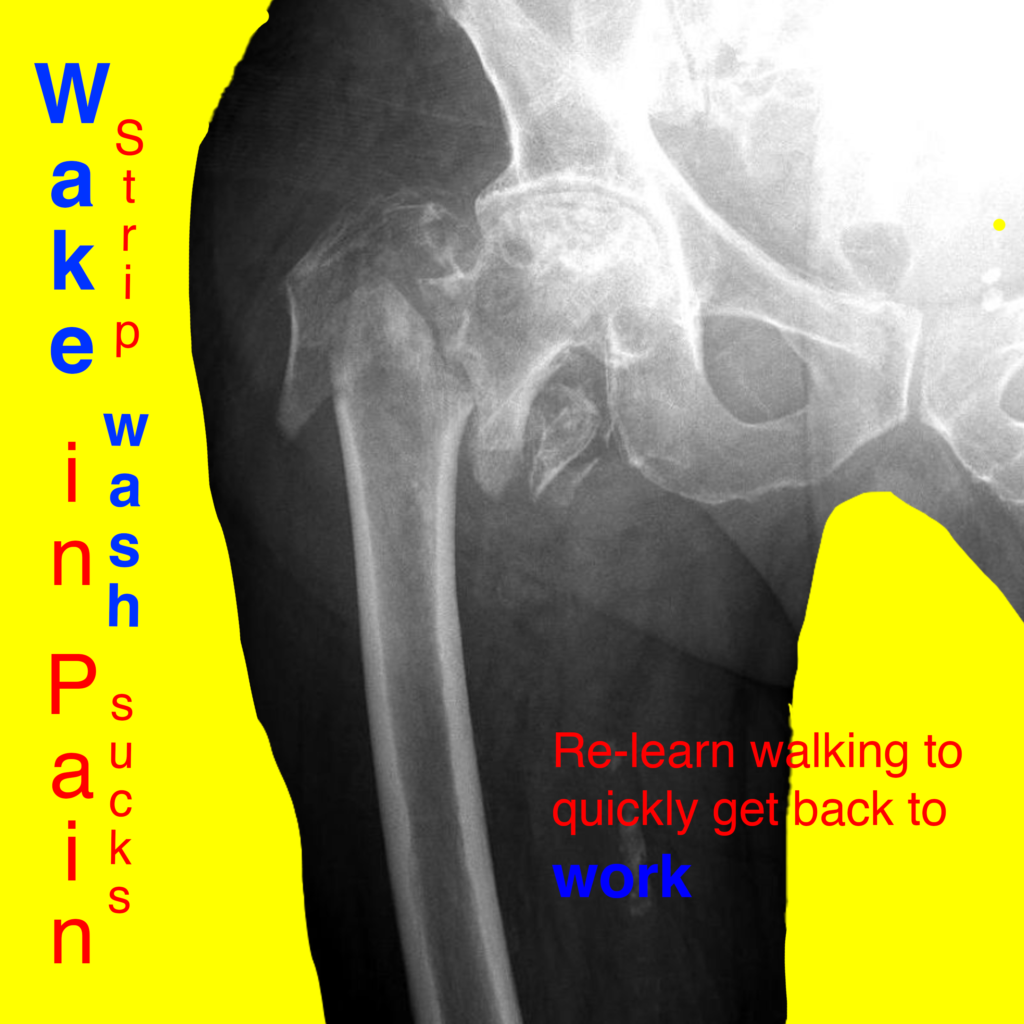 Daffodil yellow Background overlaid with a large black x-ray of a smashed hip
Vertical Text in crimson reads:
Wake in pain.
Strip wash sucks.
Horizontal small text reads: Re-learn walking to quickly get back to work
The words Wake Wash and Work are in Blue
I cant retrieve my own hip x-ray. But its similar.
This x-ray is from wikimedia commons: https://commons.wikimedia.org/wiki/Category:X-rays_of_hip_fractures#/media/File:PertrochantaereFemurfraktur.jpg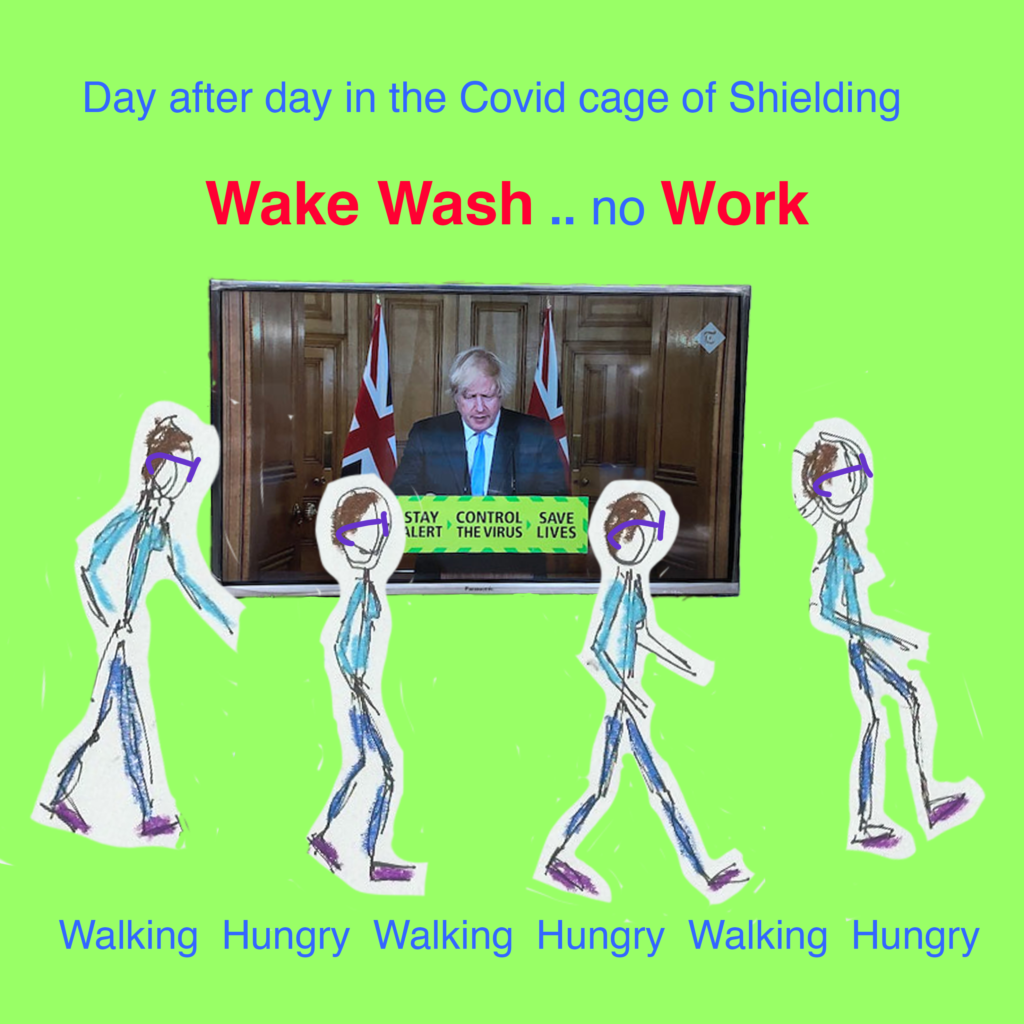 Spring green background.
Overlaid with Johnson speaking on a TV Covid report
Fronted by a line drawing of a very thin woman with purple glasses (its me) walking in circles.
Blue text reads:
Day after day in the Covid cage of shielding.
Wake wash … no work
Walking hungry walking hungry walking hungry
The words Wake Wash and Work are in Red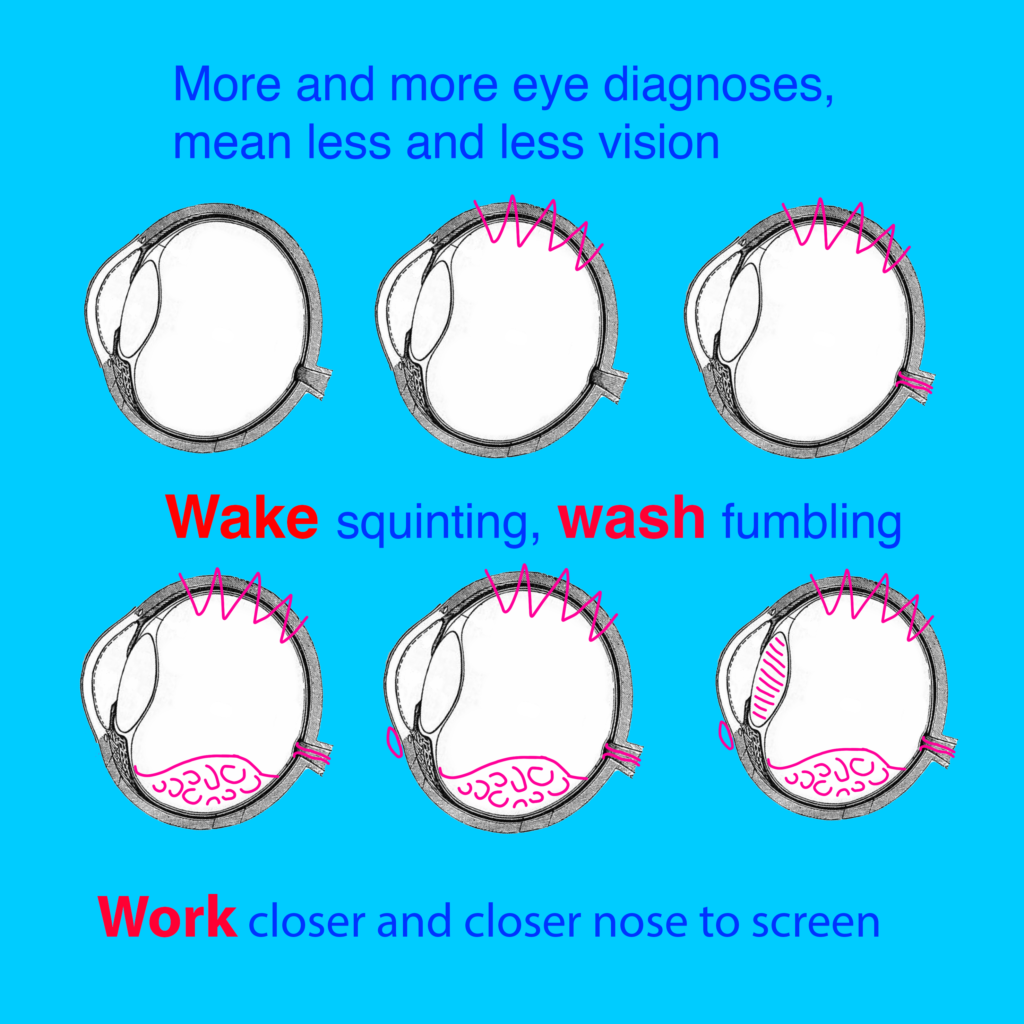 Cerulean blue background
Six cross sectional eye diagrams showing sequential left to right up to down: normal, Lattice, degeneration, optic atrophy, posterior vitreous degeneration, Chalazion, cataract.
Dark blue text reads:
More and more eye diagnoses, means less and less vision.
Wake squinting, wash fumbling
Work closer and closer nose to screen.
The words Wake Wash and Work are in Red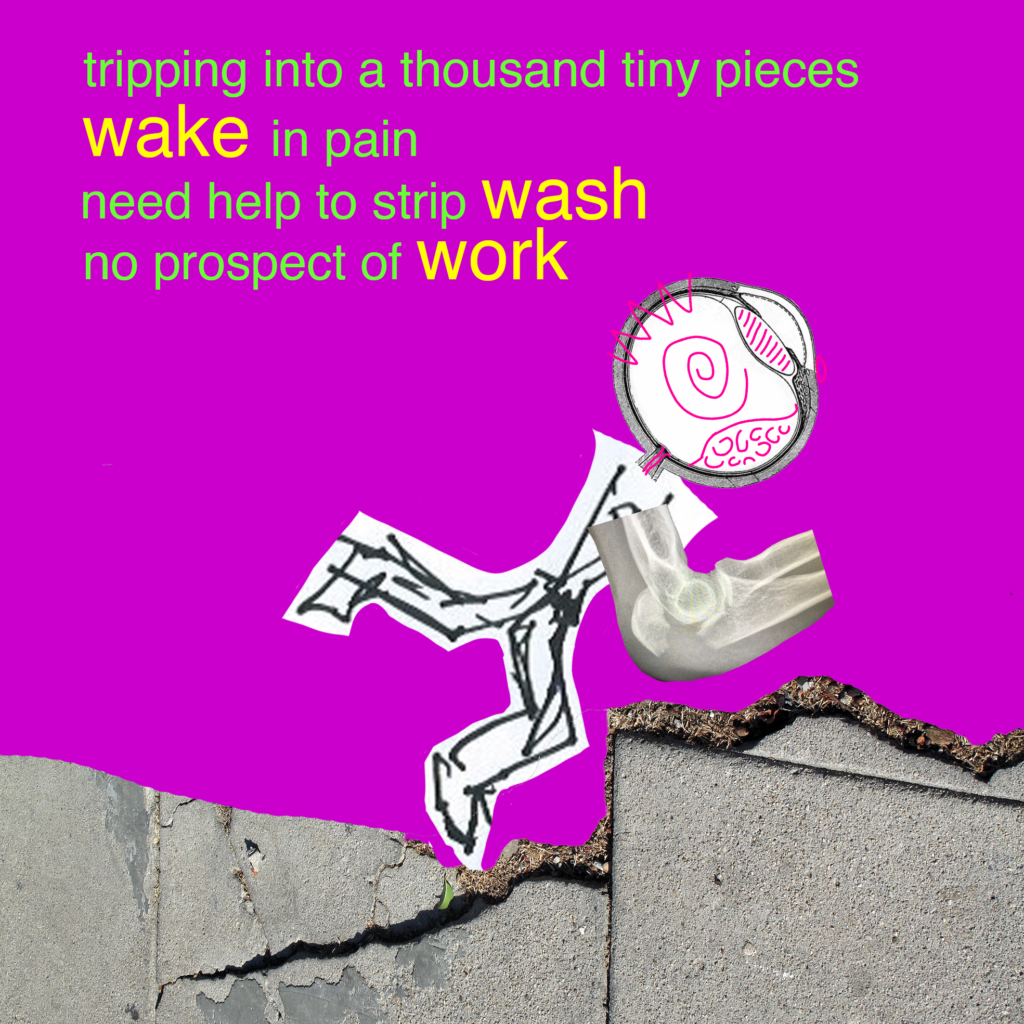 Violet background
Overlaid with a broken pavement along the bottom.
A line-drawing humanoid with her head shown as yet another eye diagnosis (glaucoma) trips, with her shattered elbow xray hitting the broken Pavements
Text in green reads:
Shattering into a Thousand tiny pieces
Wake in pain
Need help to strip wash
No prospect of work
The words Wake Wash and Work are in Red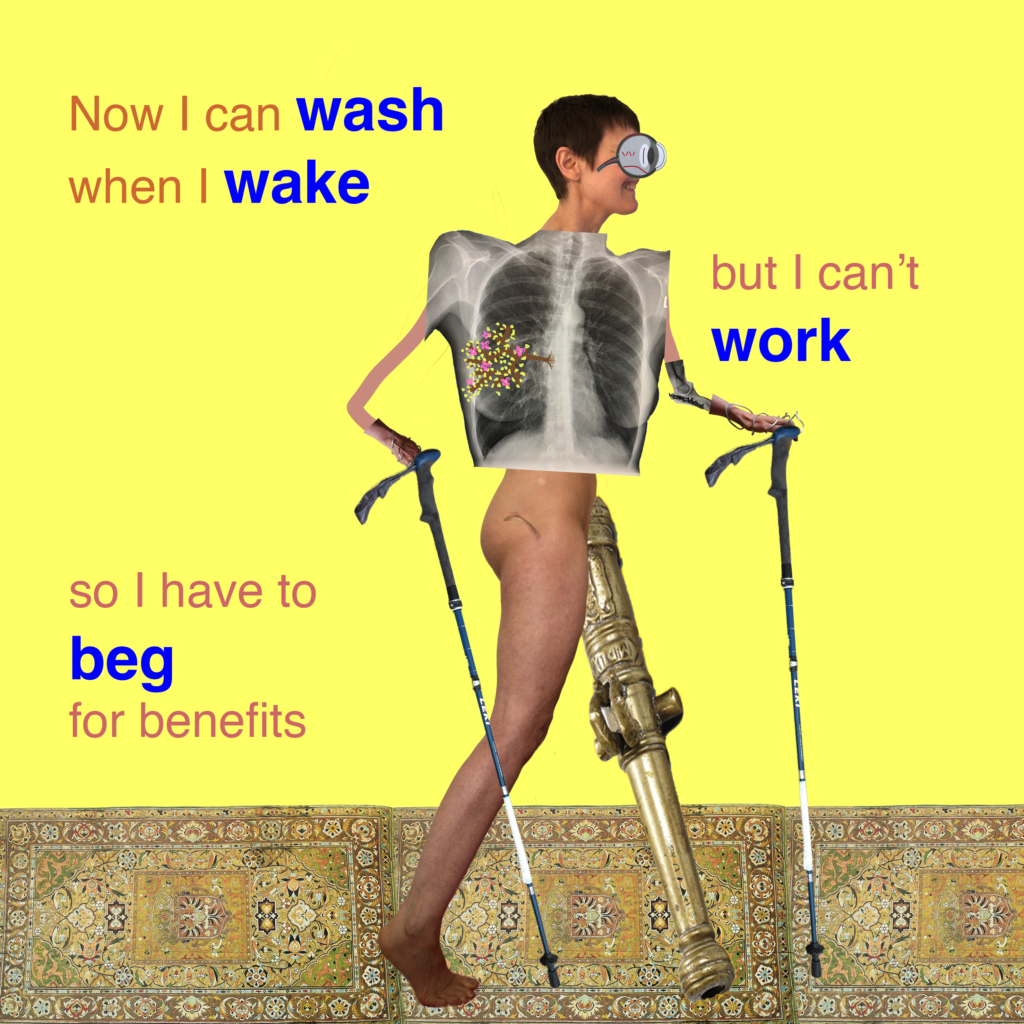 Daffodil yellow background
With a bare-bottom woman striding over Persian carpets. Using walking poles.
The woman's left leg is shown as a Cannon. Her right hip has the scar of a hip replacement. Her chest is an x-ray showing a tree-in-bud pneumonia. Her stick arms end in hands constricted in wire. With her left elbow, another x-ray, this time of the fractured elbow mended with metal. Her multiple eye diagnoses are shown schematically over her smiling face
Text in brown colours as in the carpets reads.
Now I can wash when I wake.
But I can't work.
So I have to beg for benefits
The words Wake Wash Work and Beg are in Blue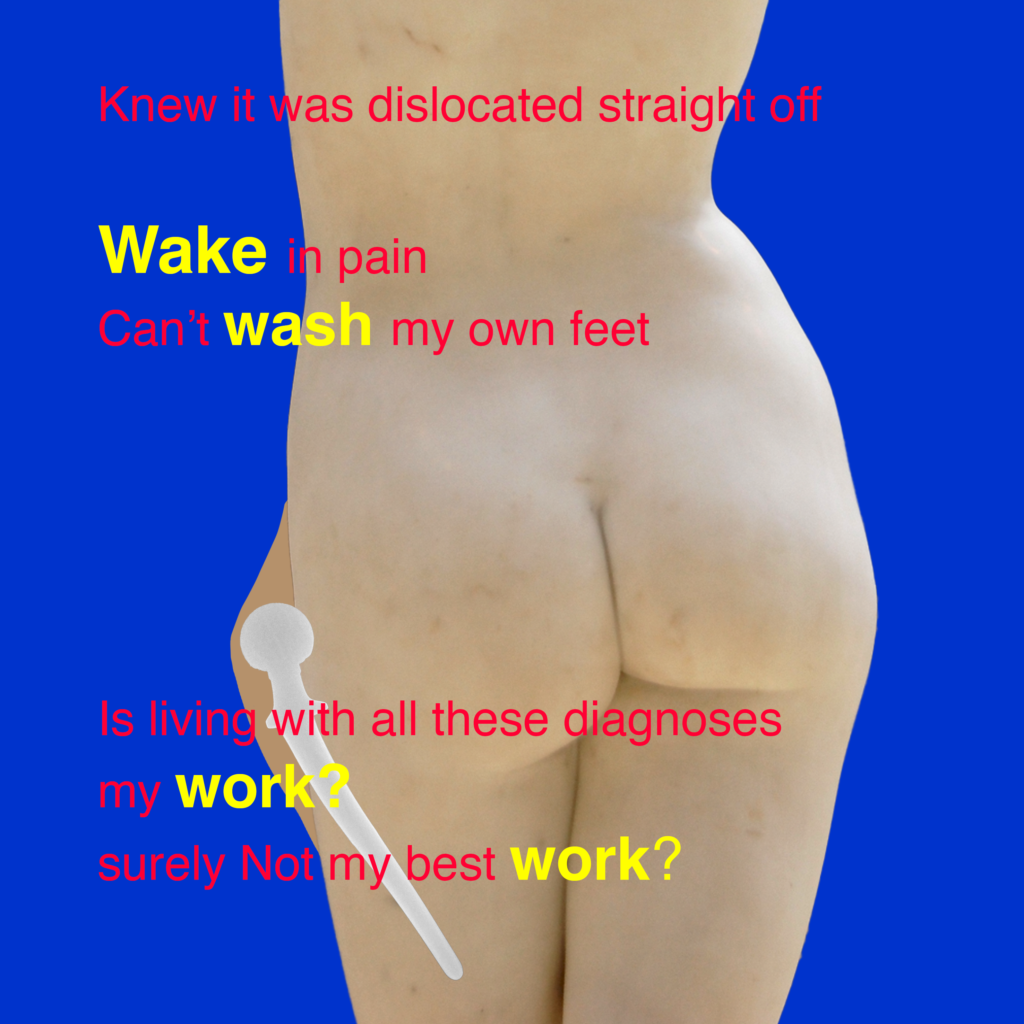 Cobalt background
Overlain with a white woman's sculptural bottom. This is actually a sculpture by Frederick Wellington Ruckstull 1853-1942 – Evening 1887-1891. Its from wikimedia commons : https://commons.wikimedia.org/wiki/File:Frederick_Wellington_Ruckstull_1853-1942_-_Evening_1887-1891.png
When I had the dislocation I did indeed know straight off what it was – even though I've never before seen a dislocated hip. I was in the shower so I had a bare bottom, which I felt to test my idea. There was a hard bulge where there should have been a dip (and a lot of pain and immobility).
The hip here has a hip prosthesis pushing the skin out. This prosthesis is similar to my own prosthesis – its actually from wikimedia commons: flipped from https://commons.wikimedia.org/w/index.php?search=hip+prosthesis&title=Special:MediaSearch&go=Go&type=image
Text in red reads:
Knew it was dislocated straight off
Wake in pain
Can't wash my own feet
Is living with all these diagnoses my work?
Surely Not my best work?
The words Wake Wash and Work are in Yellow