Details of Vanessa's previous work are as in email
Here below are brief details of some of my relevant pieces :
Upcoming is:
Lest we forget: a five minute two-hander live performance – is going to be shown in Cockpit Theatre in January 2022.
Before that, chronologically:
I made an intimate performance about my dad's death – with spoken word, choreography and wrap-around performance.
Deathbed Skiing started on a mountain, catapulting down down to a Luscious Fruiting Forest of Dreams – like you can see me standing in up above.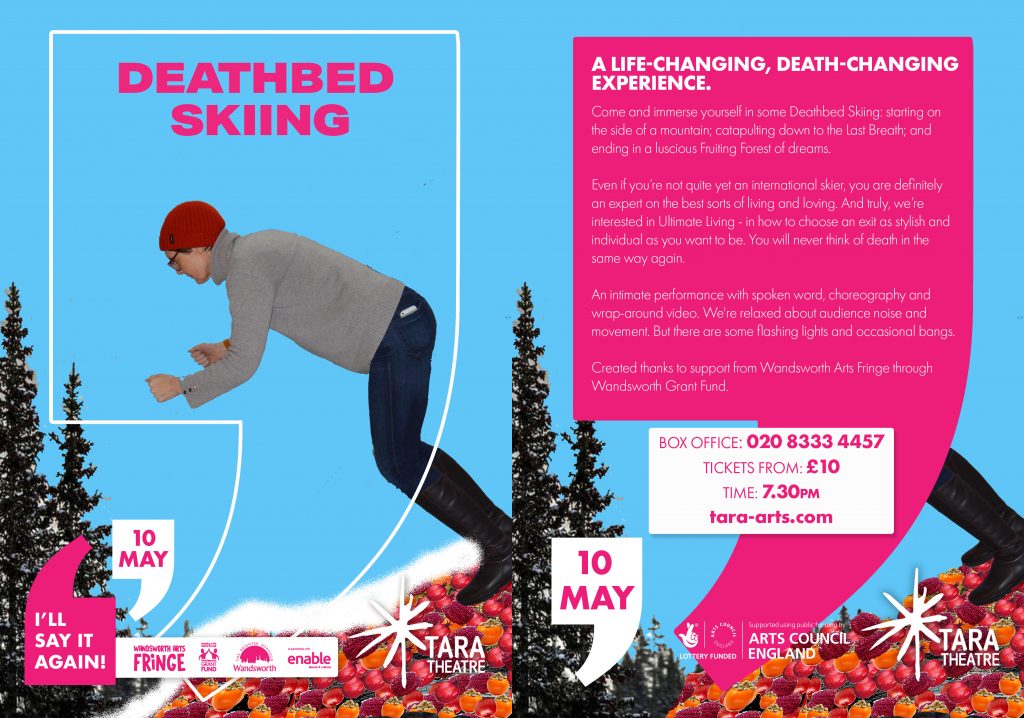 More recently, in the first lockdown, being forcibly separated from my previous 'normal' helped (actually forced!) me to work with a range of new-to-me media – including installation, (prize-winning) film, mixed photo-drawing, and weaving.
I've used these to reflect on my ever-changing lived experience in the different Covid waves.
When I was shielding, I made a Safe as Houses installation in the only place I was allowed to be – my front room – with the only material I had – leftover packaging.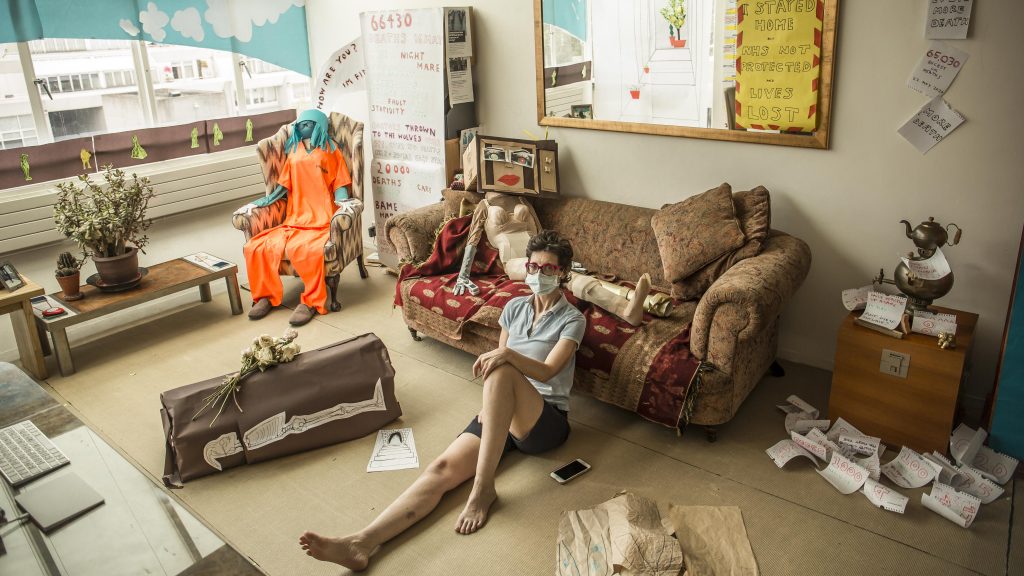 Different elements from the installation have been included in multiple virtual exhibitions, including a digital group exhibition at the Socially Engaged Art Salon, Brighton.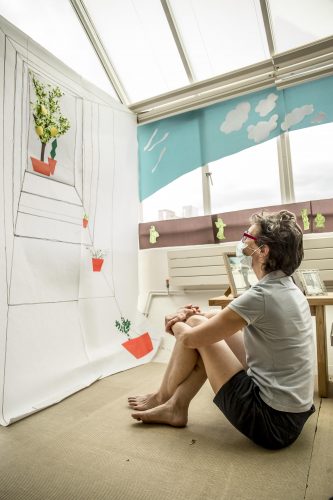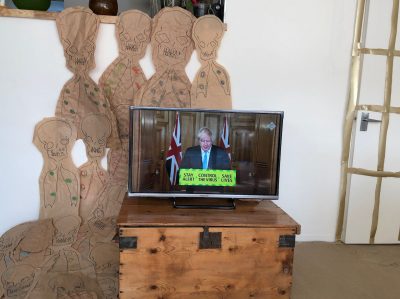 I was invited to make a related short radio piece during the first wave: Malfunction.
My piece is at 23 minutes in https://hellogoodbyeshow.com/2020/05/26/playlist-one-minute-wonders-2020/
My (first) short film –Third Wave – got a special Covid critique award from Bertha Dochouse. And was runner-up more generally. It was my first film so I was THRILLED!
I submitted One artist's experience of the lockdown : a case study in the Arts, Health and Wellbeing Special Interest Group Newsletter, Royal Society of Public Health, 2020: 1/3;8
To support myself, to help with my own personal resilience, I started learning to weave at the Story Garden, behind the British Library. Find out more here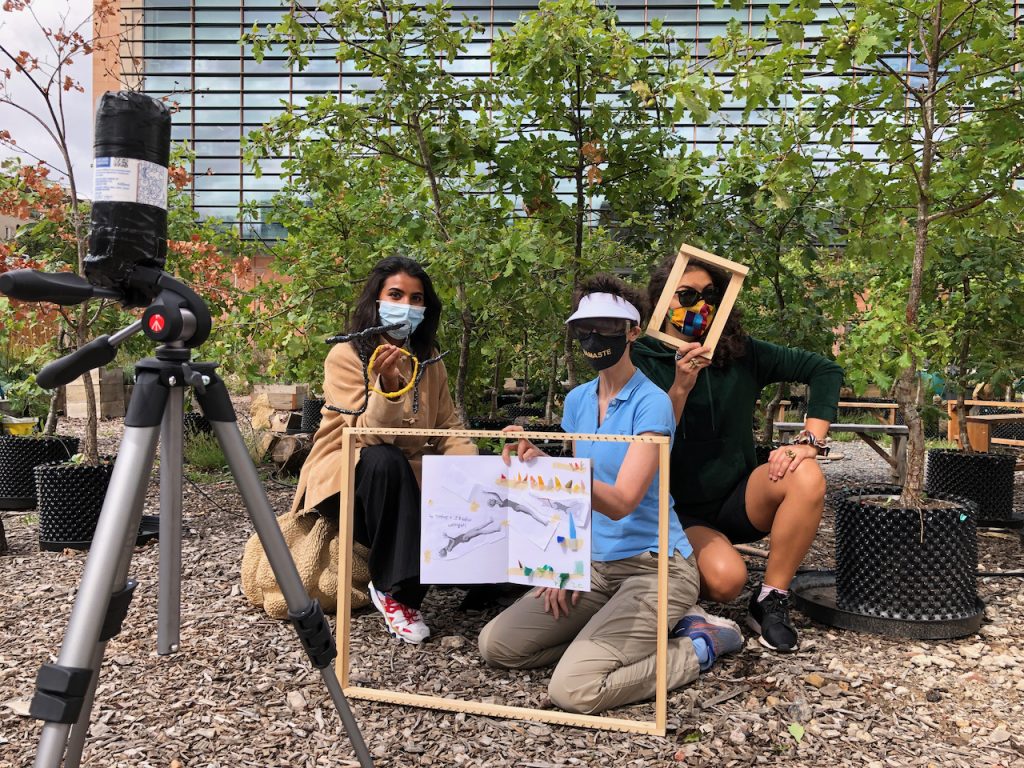 My weave was exhibited as part of Joygun Nehar's section within In the Meantime. In it, I'm free-swimming in the Kunene River.
Hundreds of kilometres of onion-bag Namibian desert shrink to nothing when, out of nowhere, there's a sudden smear of luscious green velvet plant-life, edging the languid aquamarine silk of the River. A huge bubbling plaited-corduroy waterfall is underpinned by turquoise plastic scaffolding-protectors. On the far side of the river, the gold-tipped highlands of Angola loom.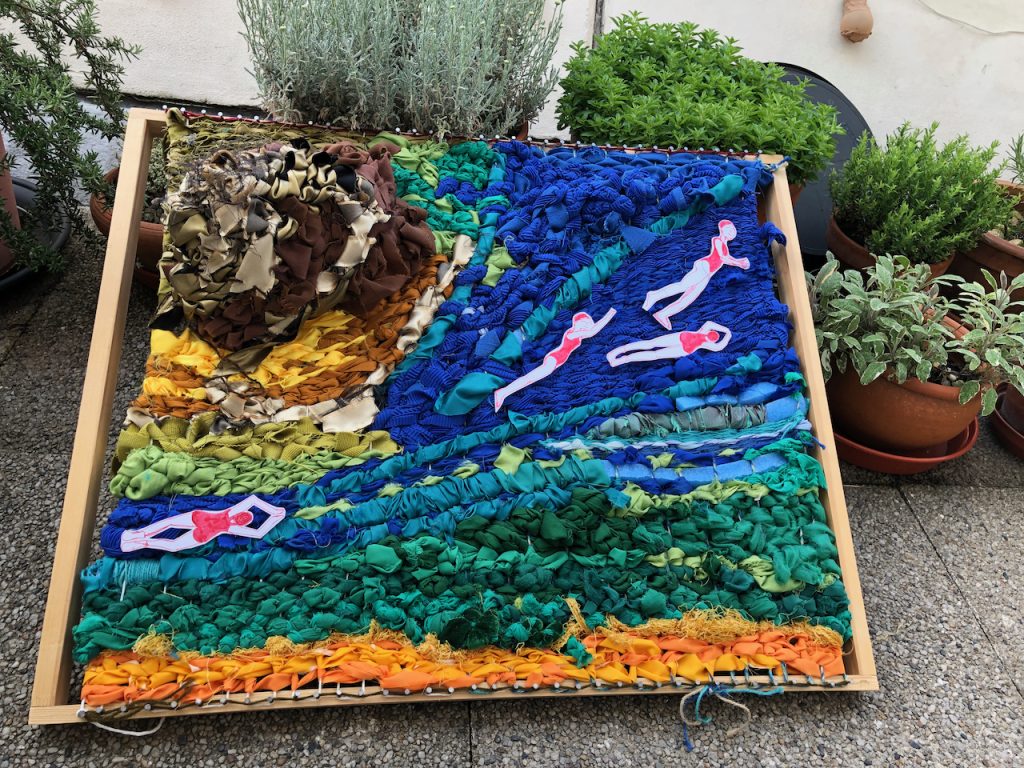 I set up parallels between urban trees and communities in Pillars and Mirrors.
I was commissioned to create the photos / drawings below for the Royal College of Arts as part of their 'In the meantime'.
They asked me to create something from / physically between the Story Garden and the Camden Arts Centre. Scroll down to the pdf here – click on the far right, then look down for my name.

Here are some specifics: After the 100-year old trees in front of Euston Station – pillars of the local tree community – were murdered, their smaller neighbours lost the complex collaborative underground network of support they would have had from their elders.
Without the Wood Wide Web, they are effectively orphans.
How, I wonder, do they sense the giant ghosts? Were they – are they – simply stunned?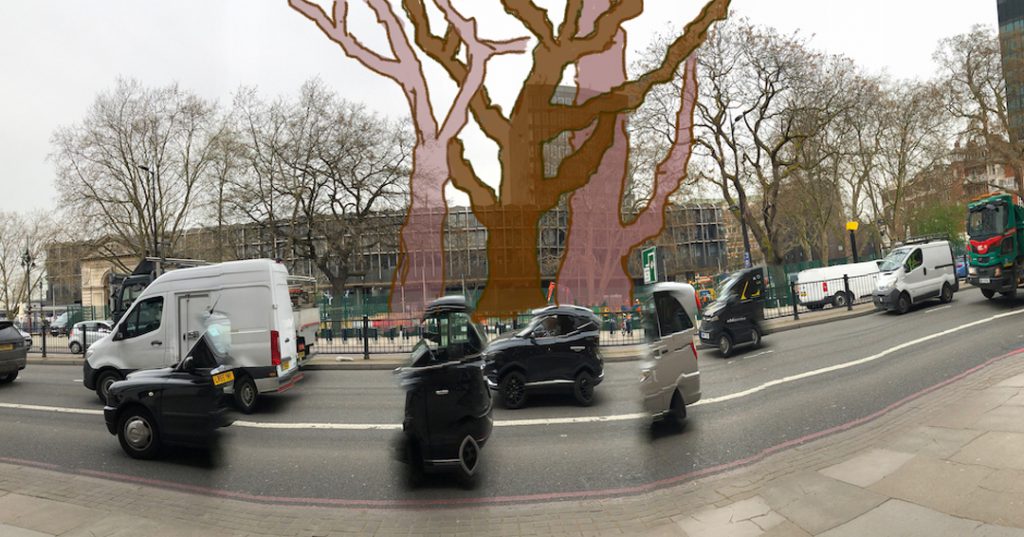 There are some other photos here, but take a look at this below: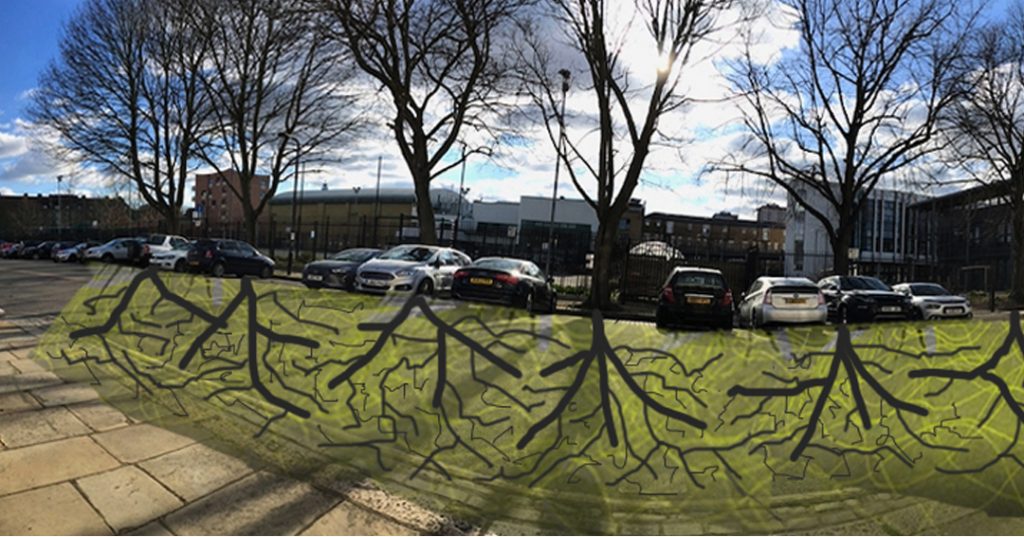 The trees here above are close enough to support each other.
I've seen them dancing together in such a neighbourly way in the strongest winds and rains.
Could you be more neighbourly? To your local trees? Or to your human neighbours?
When will you start the dancing?
After what i produced in 2020, Dexter Bentley invited me to submit another one-minute radio wonder for 2021. So I created: I'M IN A CAGE … AGAIN
Here below are the words I read on Resonance Radio. Though now I'm only too aware that what originally felt like the outrageously enormous number of 100,000 daily Covid cases – was too small. I should have said TWO HUNDRED THOUSAND
I'm in a Cage
AGAIN!
First time First wave that Cage looked best of a bad job to me
and They
They could say they didn't know
Didn't know it wasn't flu
Didn't know we're not a herd
Didn't know all their care home discharges would kill THIRTY THOUSAND of your gran your grandad
Third time Third wave they Definitely know
Definitely know that putting their mate Dido in charge of 37 BILLION of your pounds bought NOTHING.
Nothing World Beating.
No test No trace.
Definitely know there's MONEY not jail in PAYING CRONIES for PPE that isn't Protective. Isn't even Usable
And Definitely know to expect ONE HUNDRED THOUSAND Exit cases every day.
So, ICU overflow.
AGAIN!
Don't You worry though!
REJOICE!
It's Freedom day!
And me? I am back in my Cage
Condemned to Lonely Hope
We have Nothing Else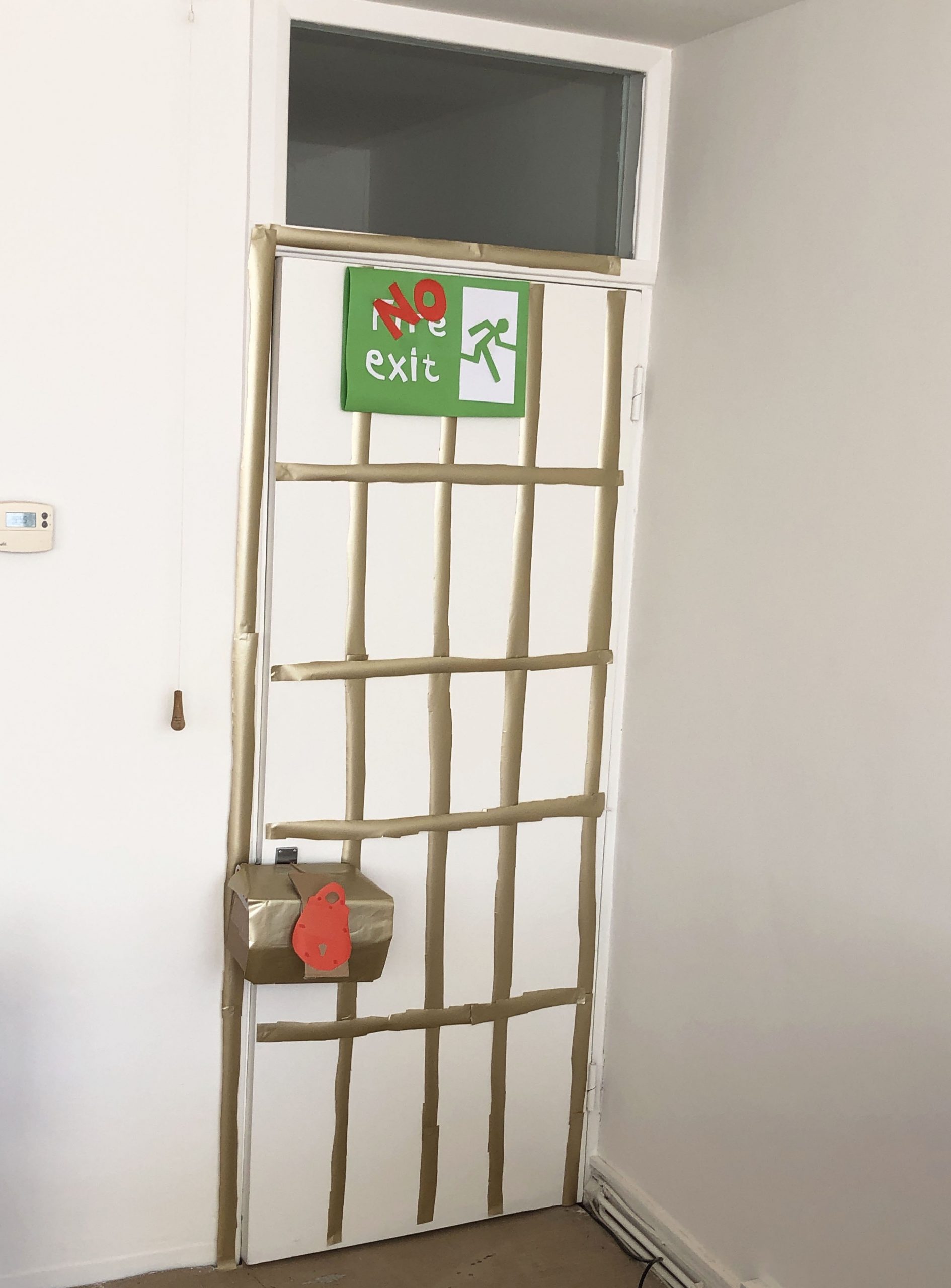 I had to pull out of a real-life exhibition of Safe as Houses, with a fractured elbow.
And I was also having an eye operation – which I had been told might lead to losing what was left of my vision altogether.
So when I when I got an invitation from the lovely Andrew Bolton to submit some disability art to a festival in Jakarta, I thought I'd make some ridiculous disability art.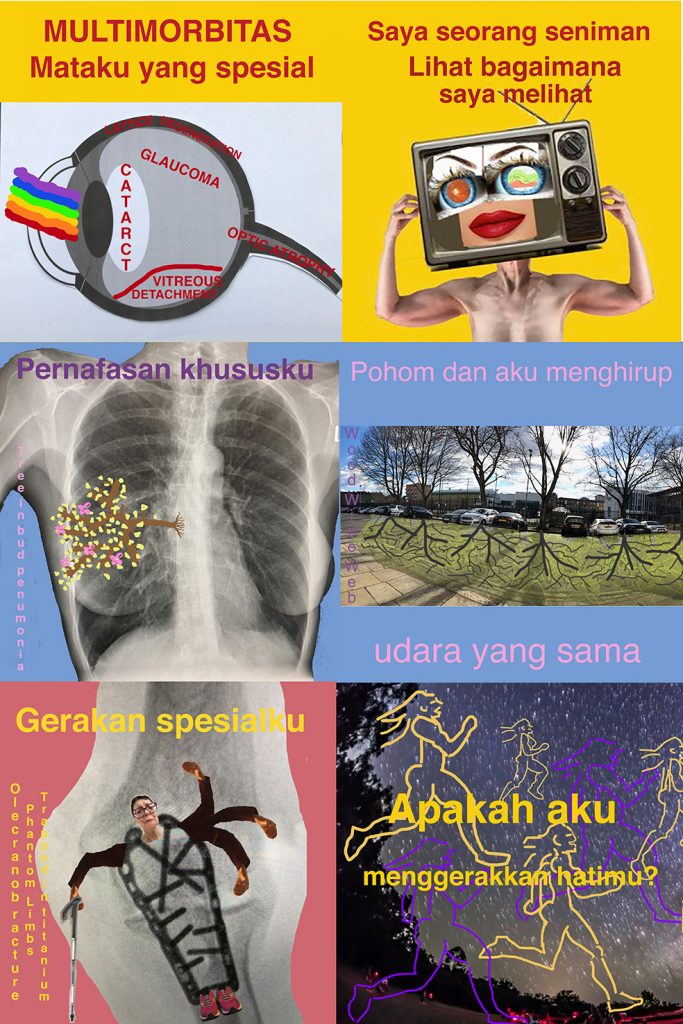 It's 1 m x 1.5 metres: a mix of my digital art and drawing, my photography, and images of x-rays of my chest and elbow.
I'm especially proud of how – bearing in mind my Ridiculous levels of Disability – I managed to make something completely new really quickly by including some repurposed earlier ideas and images.
In a foreign language. Theres more info in English here.
At the same time, Theresa Leung contacted me about some photos she had bartered with me and that she wanted to show in her Hong Kong exhibition. Look here for more details.